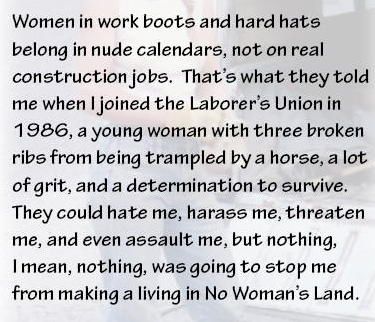 This memoir is the story of my life as a woman in the non-traditional work of heavy construction. It follows me from my first day on the job at a project high in the Sierra Nevada mountains of California to the building of Corcoran State Penitentiary where I was almost killed on the job by a hostile co-worker, to the construction of stone walls and bridge in America's National Parks, and many other jobs and experiences in between.
It is a walk in the work-boots of, not only a female construction worker, but of all construction workers, those people whose straining muscles, rugged endurance, calloused hands and skill with tools build the world.
Interwoven through the story are remembrances of early childhood, the lessons of life taught to me by my mother, the death of my father (a man of blazing passions and great folly) and the heartbreak of losing my older brother to AIDS.

I invite you to peruse the photographs below. All relate to my story and most were taken on the construction jobs I worked on during my journey Into No Woman's Land...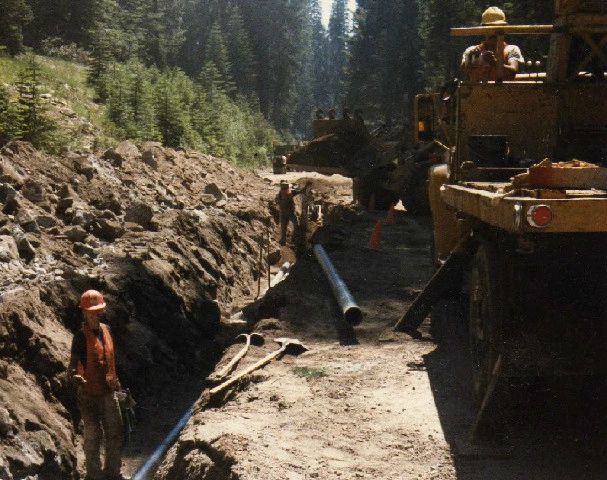 Summer of 1986, this is me in the pipe trench on my first construction job, The Sierra Project, high in the Sierra Nevada Mountains of California, working with an all-male crew, none of whom was happy about me being there, breaking the macho mystique of the construction worker. With three broken ribs half-healed in my chest from having been recently trampled by a horse, I shoveled dirt, laid 6-inch steel water pipe and ran the Rammax and vibro-plate compactors.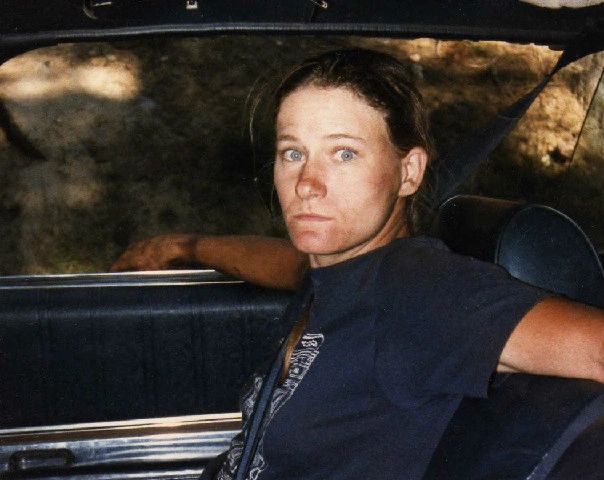 No one knew I was in constant pain, and no one knew how scared and intimidated I was by the rough men I was working with. I had stepped off into No Woman's Land, and had to face the Minotaur. This is the face of the girl pipe-layer at shift's end. Dirty, tired, and sore, this is how I looked after a day on the Sierra Project.
Prior to joining the Laborer's Union of North America, I had completed a 12-week course of study at the Porterville Horseshoeing School, thinking it would be a great way to make a living working with and helping horses. But the third horse of my professional career had knocked me down and stomped me so thoroughly that I would begin to tremble if I picked up a hind hoof. It would be years before my post traumatic stress would lessen enough for me to resume working under horses. Meanwhile, I had to make a living... That is me second from the right, bottom row.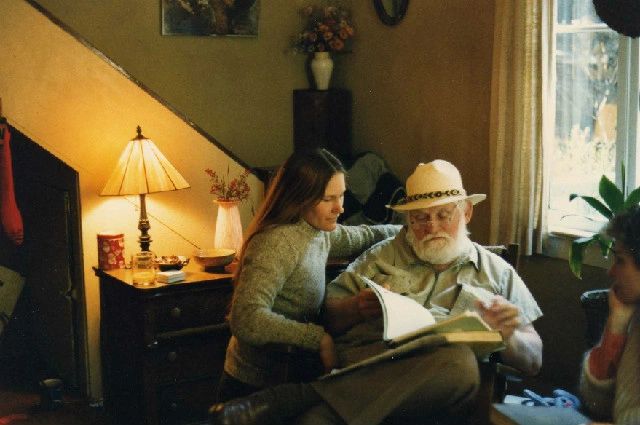 My father, Ed Farrell, had footed the bill for my course in Farrier Science at the Porterville Horseshoeing School. Here we are on Christmas morning 1986, as I show him the text books I am studying. My eldest sister Susan looks on. Less than two weeks later Pop would be dead, dying during on the table open heart surgery. This was the last picture ever taken of him.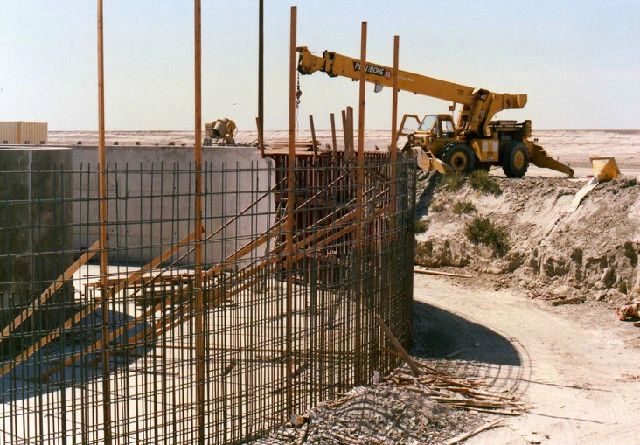 I worked on a variety of heavy construction jobs in my eleven years in the Laborer's Union. This was taken during the building of the sewer plant at Corcoran State Prison. Shown is one of the cranes used to lower materials to the workers in "the hole," and to lower the buckets of wet cement over the forms to be dumped by us Laborers into the walls of the plant.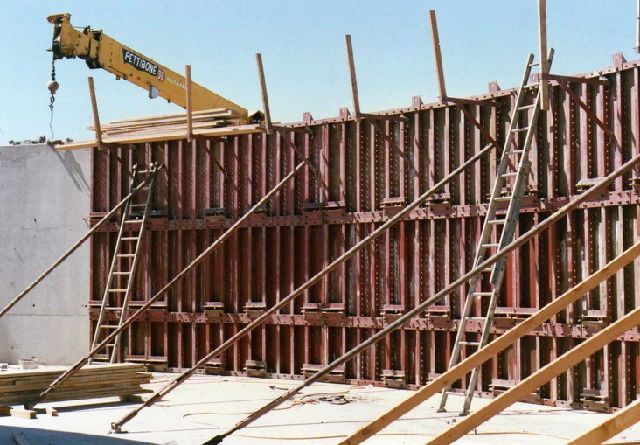 Steel-ply forms, erected by Laborers, form the radius walls of the sewer plant. On the day of a pour, a scaffold along the top of the form would be our work area. It was from the top of one of these forms that a hostile equipment operator used his crane to knock me off the scaffold, in an attempt to kill me.
Half of the sewer plant, photographed from a center interior wall. This project took 8 months to build during one of the hottest summers on record in California's San Joaquin Valley, when the mercury rose to 113 degrees fahrenheit on many days.


Of course, being a nature girl at heart, I preferred working in the mountains and rustled any job I could in the pine forests of the Sierra. I liked to ride to and from my jobs on my Kawasaki 250.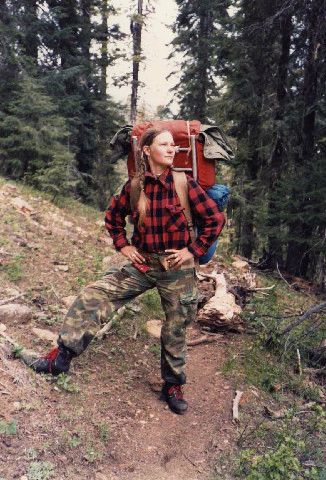 I was an avid backpacker all through my High School years and as such was never a person to shy away from a challenge. This trait was a big help to me as I faced the harassment I received at the hands of the men I had to work with on all-male construction crews.
I lived in this tiny trailer in many a "man-camp" in the mountains. My 1979 Toyota Pickup "Lou" is seen to the right and my faithful Australian Shepherd Lacy can barely be seen in the window. In my second memoir, Adventures In No Woman's Land (coming out in 2014), this is the trailer the men tried to tip over on me after I refused to open the door to them one night. I had to pull a gun on them to make them stop.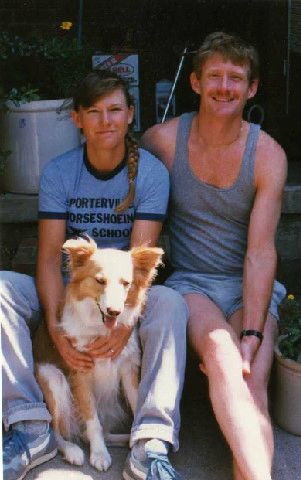 Me, my dog Lacy, and my beloved brother Steve, whose death from AIDS in 1989 was a heart-breaking reminder of the fragility of life and the preciousness of our connections to one another. His words of wisdom to me on his deathbed have influenced my philosophy of living.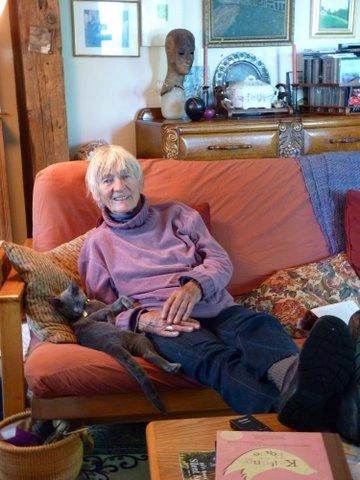 This is my mother, Jody Opperman Farrell; a lover of life, a poet and writer, and a person whose kindness towards all people and creatures, observed in my childhood, is a big reason that I am the person I am today. She rarely complains, sees the beauty in every moment and the goodness in every person, and has loved and raised seven children with those values.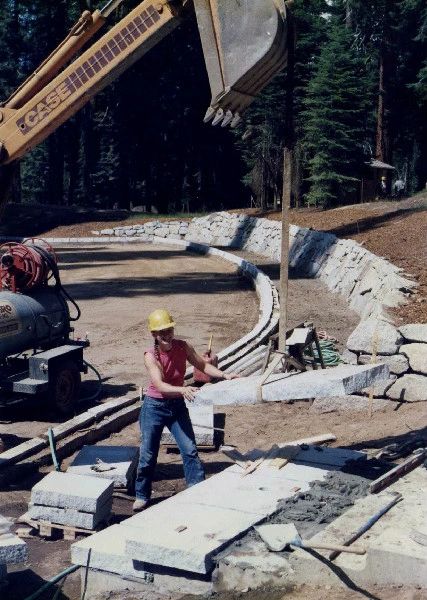 My favorite jobs of all have been doing stonework in America's National Parks. Here I am at Dorst Creek Campground, Sequoia National Park, in 1988, building the granite staircase to the campground amphitheater.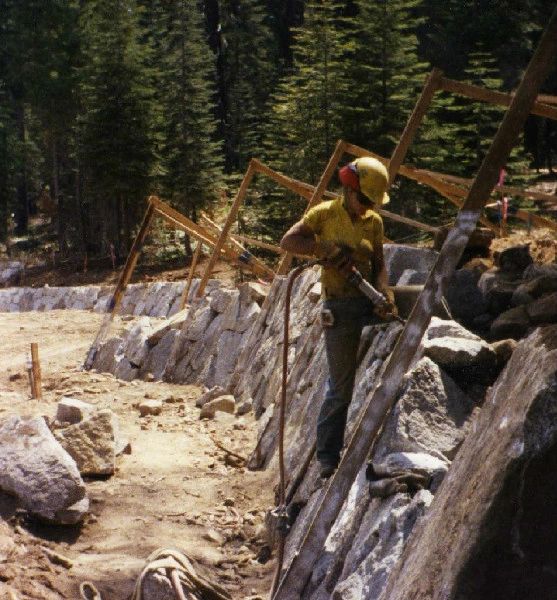 Using a pneumatic chipping gun, I shape raw granite for dry-laid retaining walls in the Wuksachi Village in Sequoia National Park. This was hard work but very creative and challenging. Seeking out the perfect rock for a given space in the wall demanded a strong sense of space, dimension and scale, and kept the mind occupied all day. Shaping and setting the stones was a physically demanding job. I loved every minute of it!

The completed wall at Wuksachi Village. My partner and our little boy check it out on a weekend visit to the job site. I think is is a thing of beauty.
Eleven years in the Laborer's Union, facing the day to day hardships of physical labor, long hours, work in all types of conditions and weather, and the constant pressure of working among all men, most of whom vehemently believed I had no right to be on the job, had made me a stronger person. Rather than turning me hard, bitter and non-compassionate, it had the opposite effect, giving me a great respect for the people who build America and make things happen in the real world of steel and concrete, wood and stone. I had gone Into No Woman's Land, faced the Minotaur, and made for myself a place there.